Hours & Prices
Admission Prices

$20
General Admission
All activities are included in the general admission, EXCEPT Paintball. Children under 2 are FREE.
Hours of Operation

Open Every Day November 24 – December 31*
Ticket booth opens every day at 5:00 PM
Sun-Thur

Fri-Sat

5:30 – 9:00 PM

5:30-10:30 PM

*Closed Christmas Eve and Christmas Day
The Sights and Sounds
St. Nick's Lighting Spectacular
Come enjoy over 2 million lights and immerse yourself in a complete Christmas experience for all ages! The crisp winter air will sparkle to life as holiday lights twinkle to warm and familiar Christmas music, creating a backdrop to a whimsical holiday light show. Come enjoy the magical beauty of Christmas and create memories that you will cherish for years to come!
Polar Express Train Ride
Come ride on the magical Polar Express train ride where you can get a tour of the whole town! Enjoy the lights and music as you are taken through Christmas Town where you can see all your favorite sights and perhaps see a few of your favorite Christmas characters that may be visiting the town as well.
Jingle Bell Sledding Hill
Ready for a snow day?! Want to experience real snow in the middle of the desert? Pull on your snow boots (or tennis shoes) and climb our wintry sledding hill (man made of course). Slide down the 100-foot snow hill as you go tubing the old-fashioned way! Let it snow, let it snow, let it snow! This sledding treat will become one of your family's favorite holiday traditions!
Under the Mistletoe Skating Rink
What's a Christmas Town experience without a turn on the skating rink? Lace up your skates (that we provide with admission), grab your sweetheart's hand and glide across our synthetic ice skating rink. The skate rink is engulfed in lights, all synchronized to music the entire family will enjoy. Skating, mittens, laughter and memories for a lifetime.
Santa Claus' Cozy Cottage
Ho-Ho-Ho! Santa has a little house in Las Vegas.! Children will love visiting with Santa Claus in his cozy cottage in Christmas Town. With his reindeer nearby, Santa can relax and spend time with each child who visits him. It may be cold outside, but it's always warm and toasty by Santa's roaring fireplace. Stop by and say Hi! Santa is so excited to see you!
Blitzen's Bounce House Bonanza
Join us at Blitzen's Bounce House Bonanza and bounce around with your friends and family in one of the many themed bounce houses at Christmas Town. Don't forget to grab a friend and see how fast you can get through the 40-foot inflated Christmas obstacle course.
'Let It Snow' Spectacular
Take a moment to rest and enjoy this spectacular show! When the show starts, the music will come alive and will show animated visual sequences thanks to the newest technology paired with RGB lighting. See the lights dance to some of your favorite Christmas songs. Don't forget to watch out, because it just might snow!
Rudolph's Save Christmas Shoot Out
Help Santa save Christmas by defeating the Grinch and the Abominable Snowman! Splatter the evil foes with colorful paint and help Santa restore the spirit of Christmas before it's too late!!
Merry Magic Tree
What Christmas village would be complete without a tree? At Las Vegas Christmas Town the sky is the limit! Stop and see the 40' tall Merry Magic Tree as it dances to your favorite Christmas songs. As the tree sparkles with joy it will bring a twinkle to your eye and a smile to your heart.
Frosty's Snow Ball Fun
The weather may not be frightful, but that doesn't mean we can't still have fun! Come have a "snow" ball fight in Frosty's Snow Ball Fun! In our ball pit you will be able to have endless amounts of fun and unlimited "snowballs" to play with!
Tiny Tim's Train Ride
Bring the little ones to a train ride just their size. A miniature train ride that is sure to bring a smile to all who decide to jump aboard! Choo-Choo!
Christmas Characters
Don't be surprised if your favorite Christmas characters sneak away from home to visit with you during your stay at Christmas Town. You never know who might show up…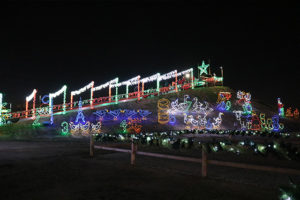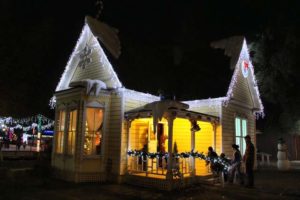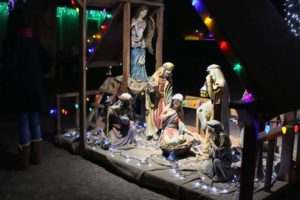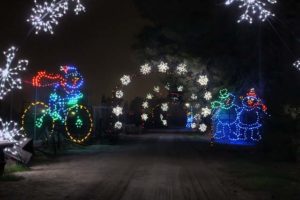 Frequently Asked Questions
What is included with admission?
Once in the park all activities are free. There will be items to purchase in the gift shop along with food and beverages. There are several photo opportunities we welcome you to use your own camera and printed photos are available for purchase. Paintballs are also available for purchase.
Where do I purchase tickets?
Tickets are available for purchase at the gate and available online here.
Click the North Pole sign labeled "Tickets" on our home page
What does it cost?
General admission is $20 per person. All activities are included with paid admission. Children 2 and younger are FREE.
Can I get a group rate?
Yes; for groups of 20 or more please call 702-956-1389 or email juan_encarnacion@wetnwildlasvegas.com
What days are you open?
Seven (7) days a week beginning Nov 24th through through December 31st with the exception of Christmas Eve and Christmas Day.
What are your hours?
We are open Sunday through Thursday from 5:30 pm – 9:00 pm. We are open Fridays and Saturdays from 5:30 pm – 10:30 pm. The ticket booth opens every day at 5:00 pm.
Can I bring in my own drinks?
No, We have concessions that offer a variety of drinks and food.
Where are you located?
We are located at 7055 South Fort Apache Road, Las Vegas NV 89148 (Inside the Wet'n'Wild Water Park).
How often is Santa Claus there?
Santa is here EVERY NIGHT we are open!
What do you have for kids?
We have the Polar Express Train Ride that tours the town, Jingle Bell Sledding Hill (with real snow!), Under the Mistletoe Skating Rink, Blitzen's Bounce House Bonanza with Christmas bounce houses and obstacle course, Rudolph's Save Christmas (Paintball) Shoot Out, Frosty's Snow Ball Fun in our "snow" ball pit, & Tiny Tim's Train Ride for even some of the smallest of guests.
Can I have a birthday party at Christmas Town?
Yes; please contact us at 702-956-1389 or email juan_encarnacion@wetnwildlasvegas.com
Can we have our company picnic or Christmas party at Christmas Town?
Yes; please contact us at 702-956-1389 or email juan_encarnacion@wetnwildlasvegas.com
Are the attractions indoors or outdoors?
They are all outdoors, except for the warm & cozy Christmas Cottage where Santa stays, so please dress accordingly for cold weather!
Will you have restrooms?
Yes, there are restrooms located throughout town.
Do you charge for babies in strollers?
No. Children 2-years-old and under are angelic little cherubs and free.
Do you offer refunds?
No, the Burgermeister Meisterburger says no. However, if we close early due to weather conditions, we do offer rain checks to patrons that our present at the time we close.
Are you open if it rains?
It depends on the amount of rain. In the event of rain, please check our Facebook page for updates or closures.
Do we need to bring our own ice skates for the outdoor skating rink?
No, but you can if you have them! Most people in Las Vegas don't own ice skates, so we happily provide them free of charge.
Do you charge us for photos with Santa?
No, we do not charge for photos with Santa, but you will need to bring your own camera to capture those precious memories or you can purchase pictures that we print on the spot.
Do you have food available for purchase?
Yes, we offer a variety of options.
I lost something! What do I do?
Our "Lost and Found" is at City Hall. Common items we find are credit cards, coats, and the occasional shoe. We will keep these all season. Email info@lasvegaschristmastown.com if you haven't found your lost item before you leave the park.
Are pets allowed?
Only service animals with proper certification are permitted at Christmas Town.
Do you accept credit/debit cards?
We accept all major credit cards at our box office as well as at concessions and the gift shop.
Is there a cost for parking?
Parking is free.
How can I apply to work at Christmas Town?
Email HR@lasvegaschristmastown.com if you are interested in joining our family of elves.
Location & Directions
7055 South Fort Apache Road, Las Vegas NV 89148

Thank You to Our Sponsors!
Wet 'N Wild
Buy TicketsMountain of SnowFollow us on Facebook!
Hours & Prices Attractions F.A.Q. Location Sponsors
info@lasvegaschristmastown.com | (702) 899-1678